Is the future of forestry in Canada led by Indigenous people?
On March 3, Paul Lefebvre, Parliamentary Secretary to the Honourable Seamus O'Regan, Canada's Minister of Natural Resources, announced a $500,000 investment in Agoke Development Corporation, a forestry company owned and operated by the First Nations of Aroland, Eabametoong, and Marten Falls, based in Thunder Bay, ON.
This investment, according to Natural Resources Canada (NRCAN), will support a project to increase Indigenous participation in Canada's forest sector, while contributing to industry competitiveness. The announcement was made at PDAC 2020 by Lefebvre, coming only a week after Agoke was honoured for its work with an Ontario Forest Sector Champion of the Year Award at the 77th Annual Ontario Forestry Industries Meeting and Convention in Toronto.
"This program directly benefits Indigenous communities by helping individuals acquire the skills and knowledge needed to succeed in the forest sector," Paul Lefebvre stated. "The Government of Canada will continue to work with Indigenous partners to create opportunities in the forest sector that contribute to its continued competitiveness."
NRCAN's program will be sponsored by its Indigenous Forestry Initiative (IFI), and will support the training of up to 40 First Nations people under the Anishnawbe Workforce Development Maintenance Program (AWDMP). The training will provide participants with the technical skills required to join the forest sector labour force. The initiative also includes a job retention coordinator, who works with industry partners to develop formal onboarding and on-the-job mentoring.
The program will also consult with First Nations elders to develop and introduce Indigenous cultural awareness training for employees, government agencies, and industry.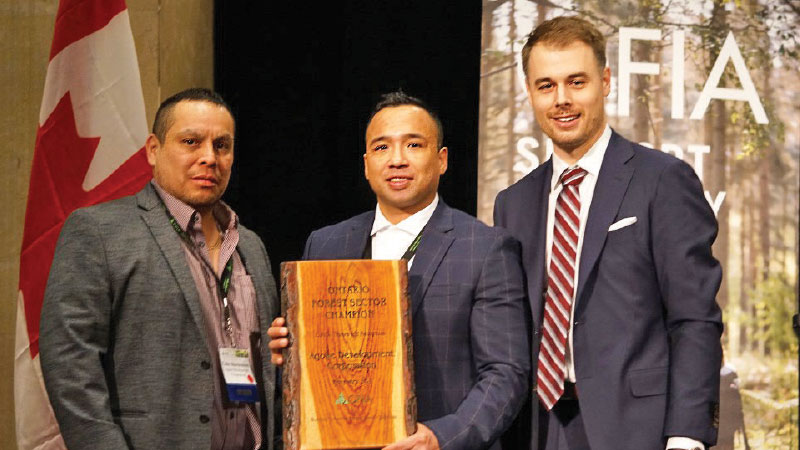 "Our First Nations that make up the Agoke Development Corporation have traditional knowledge and heritage in the Ogoki Forest," says Chief Dorothy Towedo of the Aroland First Nation. "Our peoples have been living off this sacred land since time immemorial. It is paramount that our peoples play a role in any resource development project within our traditional territories, especially forestry. This training program will ensure that our peoples' participation in the forest sector is prioritized, supported, and valued. We are already seeing a drastic reduction in the unemployment rate in our First Nation."
According to Statistic Canada's 2016 Census, First Nations people identify as 59% of Canada's overall Indigenous population – around 977,200 individuals. As well, there are 634 First Nations communities across Canada, representing 50 different Nations. The 2016 census noted that the overall Indigenous population was both young and growing in number – the average age of the demographic being 29.1 years old, as opposed to 41.3, the average age of non-Indigenous. The Indigenous Economic Progress Report (2019), conducted by the National Indigenous Economic Development Board, found that the unemployment rate for First Nations people 15 years and older in 2016, was 18% overall. However, there was a 10% difference in unemployment between First Nations people on the reserve (25%) as opposed to off the reserve (15%).
Companies like Agoke Development Corporation, programs like IFI, and government investments like the one on March 3 are working to positively impact those stats.
"For the Agoke Development Corporation, the training programs are key to improving the social and economic conditions in our First Nations and advancing our regional economy," says Mark Bell of Aroland Nation and Board Director of Agoke Development Corporation. "As older workers are planning to retire, we are readying our communities to be positioned to play our part in filling the skilled trades gap. We are taking a lead role to unlock the immense potential of our youth and integrate millennials into the workforce by providing them with the tools, inspiration, experiences, and personal support they need to succeed."
"We are already seeing positive outcomes from the pre-employment training like the life skills, self-confidence building exercises, and wrap around supports for job retention," Bill Spade of Eabametoong First Nation and Board Director of Agoke Development Corporation says. "There is a lot of work to do to help our youth realize their true potential and make a career in forestry. This will require expansion and on-the-job training in other areas like road construction, harvesting, hauling, and the skilled trades apprenticeships opportunities for First Nations.
"Through our strategic alliances and key partnerships with companies like the Nakina Sawmill, we are making sure that there is a guaranteed job and a light at the end of the tunnel."
Agoke Development Corporation is involved with forest management, harvesting, road construction, road maintenance, and training. The goal of the three communities involved was to obtain a sustainable forest license on "the dormant 19,000-square-kilometre Ogoki Forest to do the harvesting and hauling to area mills."
According to Northern Ontario Business, this came to pass in 2018 and led to a joint venture agreement with Buchamnan Sawmills to supply and reopen the Nakina mill. The Nakina sawmill is now is comprised of about
85 workers, 80% of whom are First Nations people.
Agoke business advisor Jason Rasevych said that receiving the Forest Sector Champion of the Year Award was a major accomplishment for the company.
"You don't see a lot of First Nations participation at the OFIA level, so we are blazing a trail. This award is achieved by the willingness of our First Nations and partners to come together for the greater good, to hold a collective vision, and to work hard with the solid determination to succeed."
Agoke Development Corporation is not the First Nations partnership in the forestry sector. In March 2019, the province of Manitoba signed a two-year forestry management option license with four First Nations on the east side of Lake Winnipeg to investigate the possibility of Indigenous-led forest development. The agreement involved Black River First Nation, Brokenhead Ojibway Nation, Hollow Water First Nation, and Sagkeeng First Nation.
The two-year forest management option licence with Black River First Nation, Brokenhead Ojibway Nation, Hollow Water First Nation, and Sagkeeng First Nation will investigate options such as:
• Determining wood supply and suitability for commercial forestry.
• Pursuing private partnerships and investment for commercial developments.
• Preparing a proposal for an Indigenous-owned and operated company to manage, develop, harvest, and renew the area's forest.
• Making an application for a long-term forest management licence as well as supporting greater participation by Indigenous communities in economic development and sustainable management of the province's
natural resources.
"With this forest management licence, we can finally realize the dream we have been working on all these years," said Chief Sheldon Kent, Black River First Nation. "It will still take time, energy and capital, but we are ready. It is a win-win for everyone, including all the communities and stakeholders involved in this project."
"This licence is a first-of-its-kind forestry development agreement in Manitoba between the provincial government and Indigenous governments," says Sustainable Development Minister Rochelle Squires. "This agreement has the potential to renew the area's Crown forest and pursue economic development opportunities while adhering to our commitment to environmental stewardship and sustainable forest management."
Across Canada, Indigenous-led companies and First Nations alliances have seen several success stories. In Saskatchewan, the Meadow Lake Tribal Council owns the largest First Nations-owned sawmill in the country, according to The Canadian Press in July 2019. In May, the Council announced it would start to create energy from residual biomass from the mill.
"When one thinks of Indigenous engagement in the natural resource economy, one usually thinks of opportunities in the oil and gas industry or in mining," writes Joseph Quesnel, a research associate with the Frontier Centre for Public Policy, an independent Canadian think tank. "However, increasingly, First Nations are getting involved in commercial forestry. Certain provinces … have a sizable forest industry that plays a substantial role in propping up the provincial economy."
A survey conducted by the National Aboriginal Forestry Association in 2011 stated that there were an approximate "1,200 to 1,400 Aboriginal forest companies [across Canada] that exist in all sub-sectors, with the exception of pulp and paper manufacturing. The majority of these Aboriginal enterprises operate as third-party timber harvest contractors, or hold some form of forest tenure whereby they are bound by their obligations as outlined in their respective timber supply agreements, to supply wood to pre-determined processors."
Ten years later, and even in 2019-2020 alone, we can only assume that the number has continued to rise.
"Canada's forest sector continues to be an important source of employment across the country, including in rural, remote, and Indigenous communities in Ontario," says NRCAN. "That is why Canada is investing in projects to equip Indigenous communities with the tools to build greener businesses and promote economic stability in the forest sector."